Tiled Conservatory Roof Installation, Hampshire
Our installation team enhanced this gable conservatory in Hampshire with a new tiled conservatory roof. If you'd like to discuss a replacement conservatory roof or another double glazing product, contact our team today on 01962 840 780.
Lighting Up This Conservatory
A new lease of life was breathed into this Gable Conservatory (pictured before the installation) in Hampshire as we replaced the plastic cladding and polycarbonate roof.
Not only have we fitted a tiled roof but we have added two full-length glazed panels within it, helping to open up this space.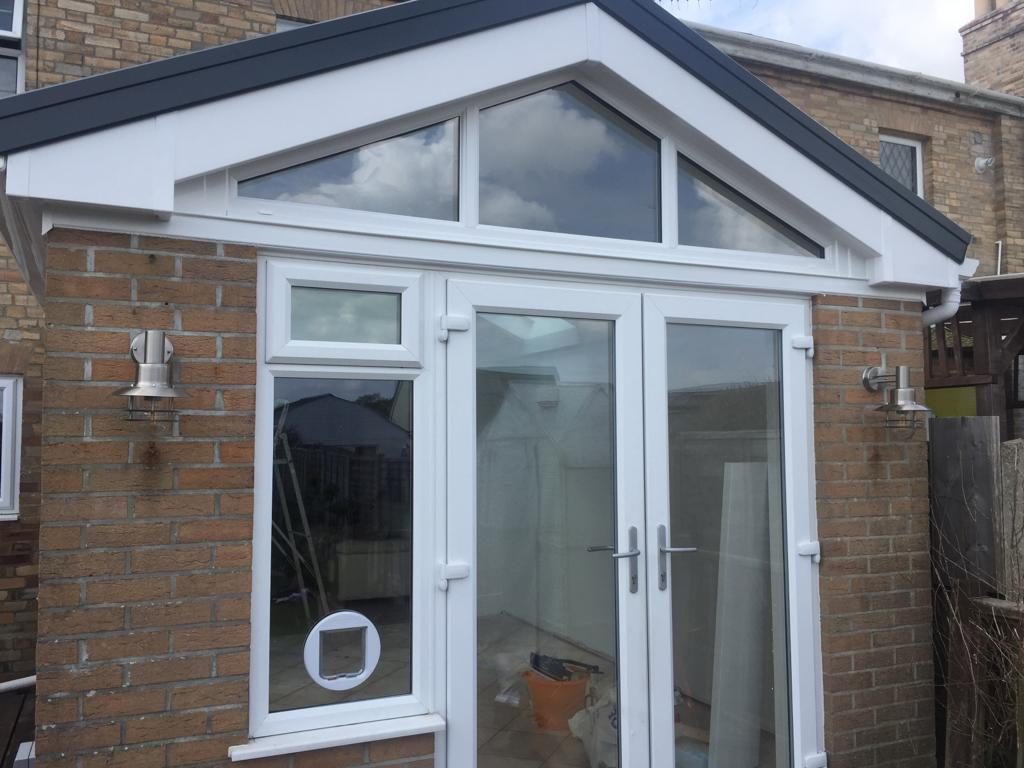 The glass panels at the front of the conservatory have allowed for more light to flow in, giving this family a space they can enjoy year-round.
Even in the coldest of winter months, these homeowners will enjoy panoramic views of their garden from the comfort of inside.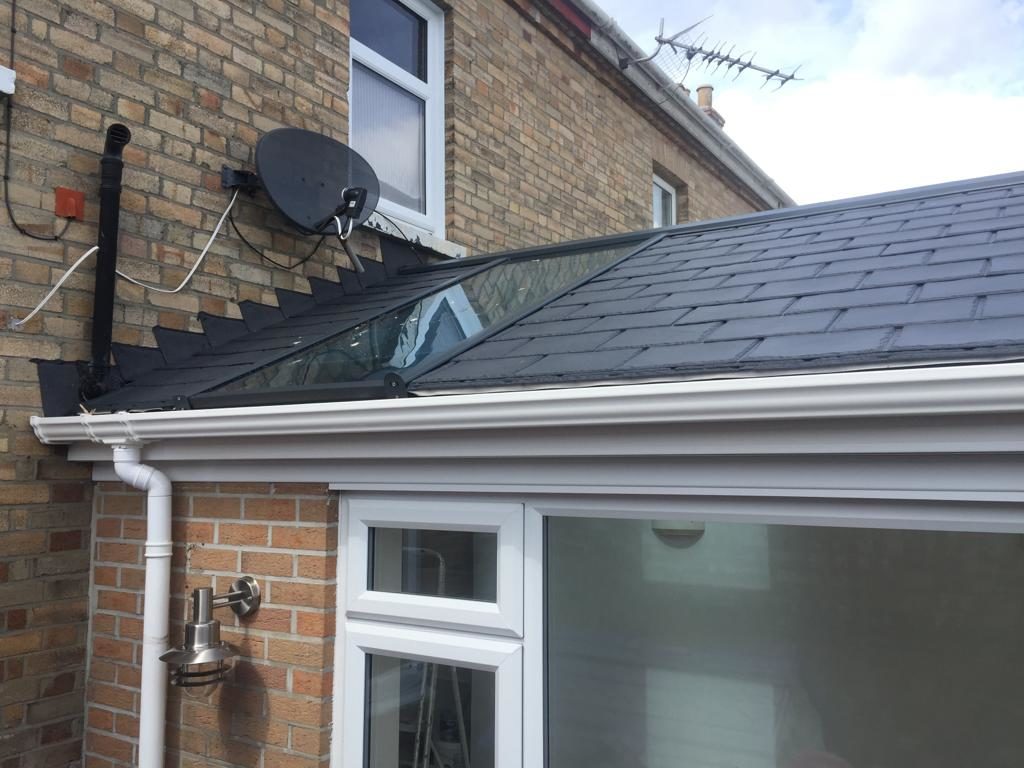 Adding Traditional Charm to Your Home
This tiled conservatory roof has given this Hampshire homeowner the best of both worlds. They can enjoy the original appeal of a classic tiled roof with the performance and benefits of modern innovations.
This roof will make this gable conservatory more comfortable, blending in perfectly with the rest of the home.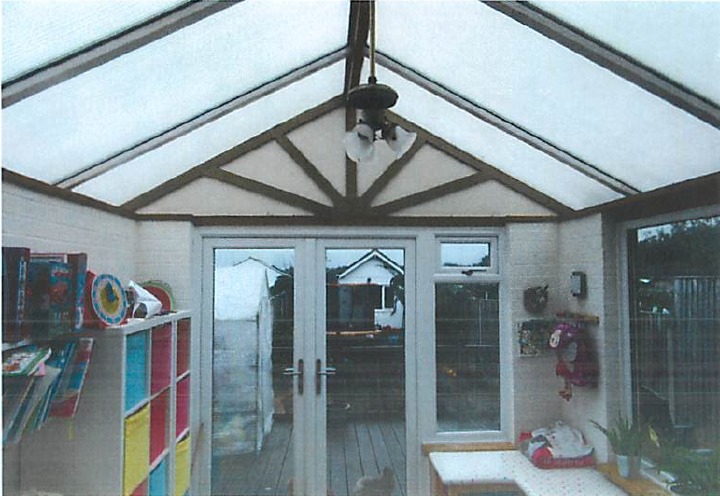 Unlike before (as seen in this picture), the homeowner will enjoy a less claustrophobic conservatory, with the two full-length glazing panels allowing for maximum natural light allowance.
The integrated glazing system maintains an excellent level of thermal efficiency and weatherproofing.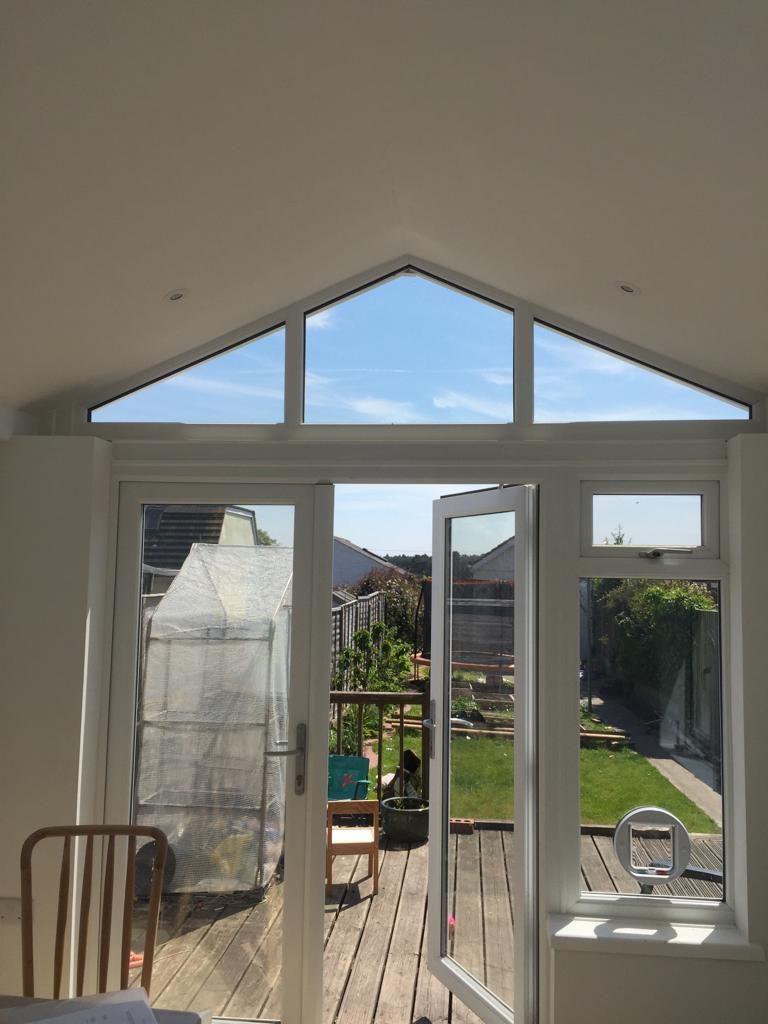 Lightweight Design
If you're looking to replace an existing conservatory roof, then the tiled conservatory roof is an ideal option. As this Hampshire homeowner found out, the roof can be easily integrated into your home without compromising the current frames.
As the lightest tiled roof on the market, the panels are cut to size and easy to manoeuvre to ensure you get the perfect fit.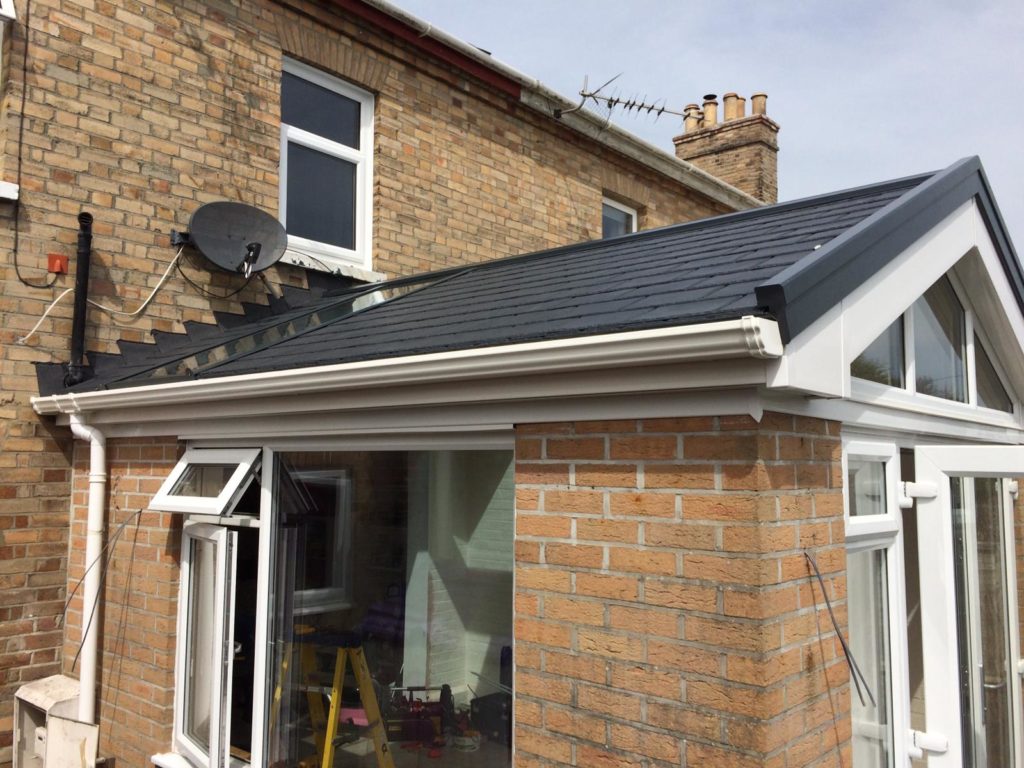 Peace of Mind That Your Home is Safe
We make sure to offer our customers on the best conservatory roofs, and our tiled option is no exception. This roof has been fire tested in 2017 by Warrington Fire. It is rated as B-roof according to EN 13501-5:2016 and AC according to BS476-3:2004.
The roof itself has been manufactured using NASA satellite data to suit the precise wind and snow loads in the area of this Hampshire home, offering an impressive degree of structural integrity.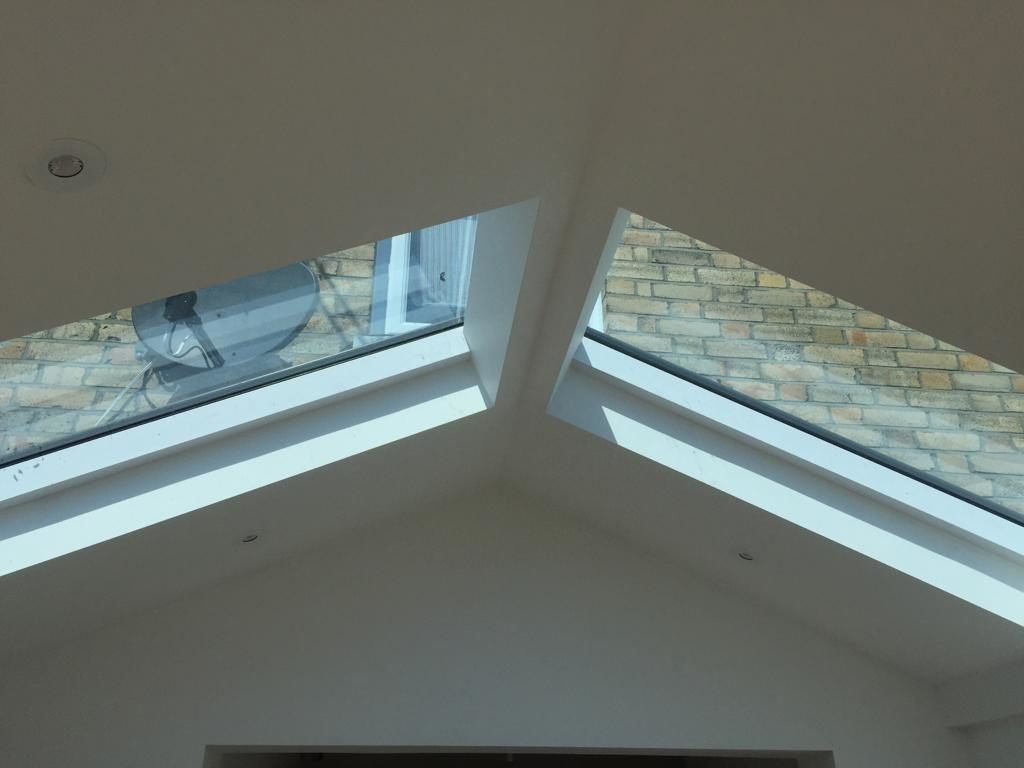 Warming Your Property
Comfortable temperatures will be enjoyed by this Hampshire homeowner following the installation of our tiled conservatory roof.
We offer the complete warm roof system with no cold bridging, allowing it to achieve a U-value of 1.3.
The roof features a fully insulated 380mm structural beam that works to increase heat retention, trapping in pockets of warm air to ensure that the winter winds are kept at bay.
The homeowner won't have to worry about using extra central heating to keep this space warm. If anything, they will rely less on their central heating, saving them money on their energy bills.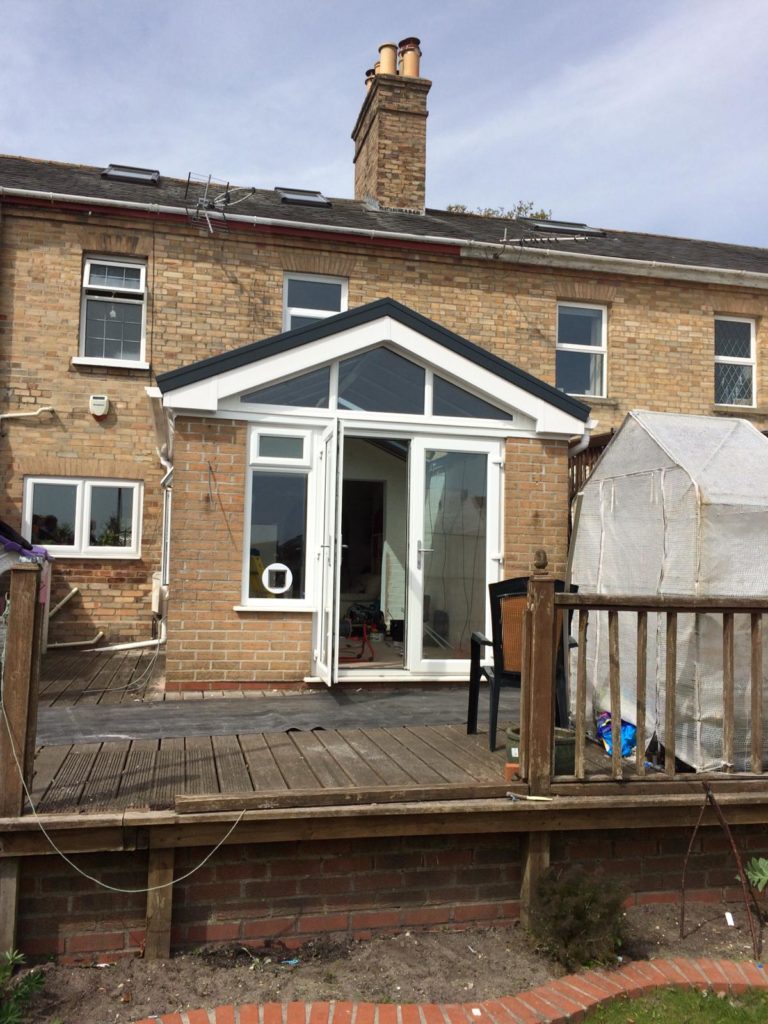 Quality Guaranteed
When purchasing this new conservatory roof for their property, this Hampshire homeowner wanted to be certain it was a worthwhile investment.
With this in mind, all our products are accompanied by a comprehensive 10-year insurance-backed guarantee. Not only does this ensure your product will stand the test of time, but you can enjoy the peace of mind that comes with better quality.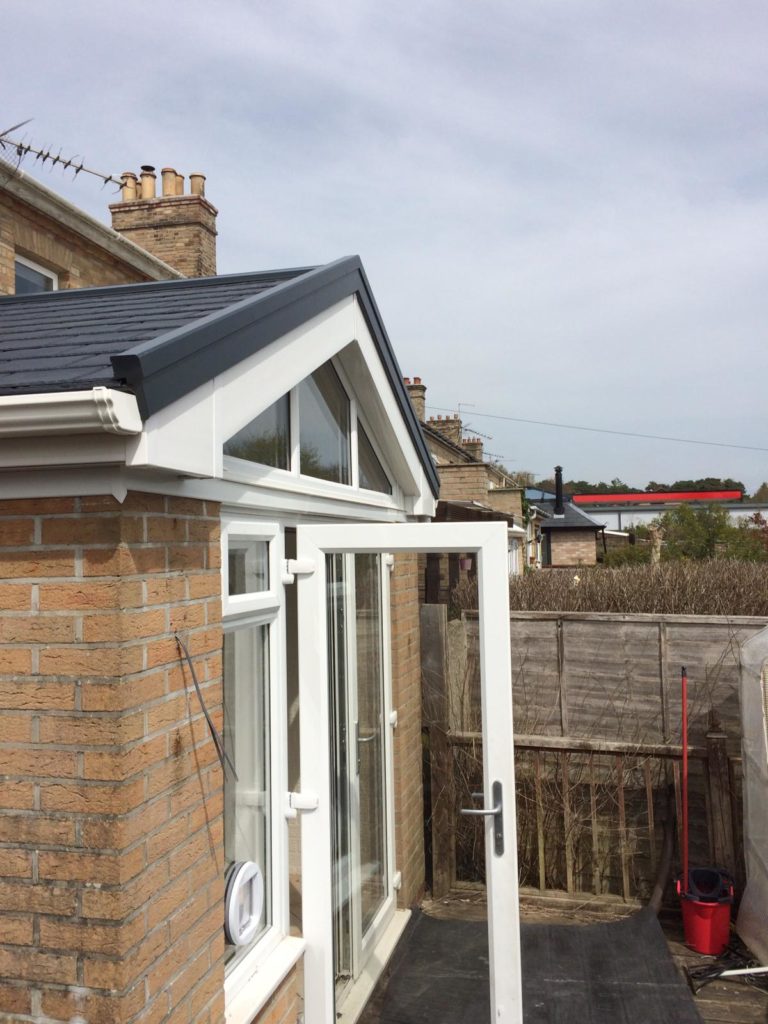 Tiled Conservatory Roof Prices Hampshire
If you've been inspired to upgrade your conservatory or extension with a new tiled conservatory roof, or you would like to discuss another double glazing product, then get in contact today. Our team can be contacted on 01962 840 780 or you can fill out our contact form.
For those who already know what colour tiled conservatory roof they want, why fill out our online quote or contact a member of our team to receive a bespoke estimate. 
We also have a showroom if you would prefer to see our products face-to-face, which is located on Easton Lane, Winchester, Hampshire.