Glass Conservatory Roof & French Door Installation Hampshire
This Hampshire homeowner enhanced their Lean-To Conservatory with a replacement glass conservatory roof and a new set of French doors. If you'd like to discuss a replacement conservatory roof or another double glazing product, contact our team today on 01962 840 780.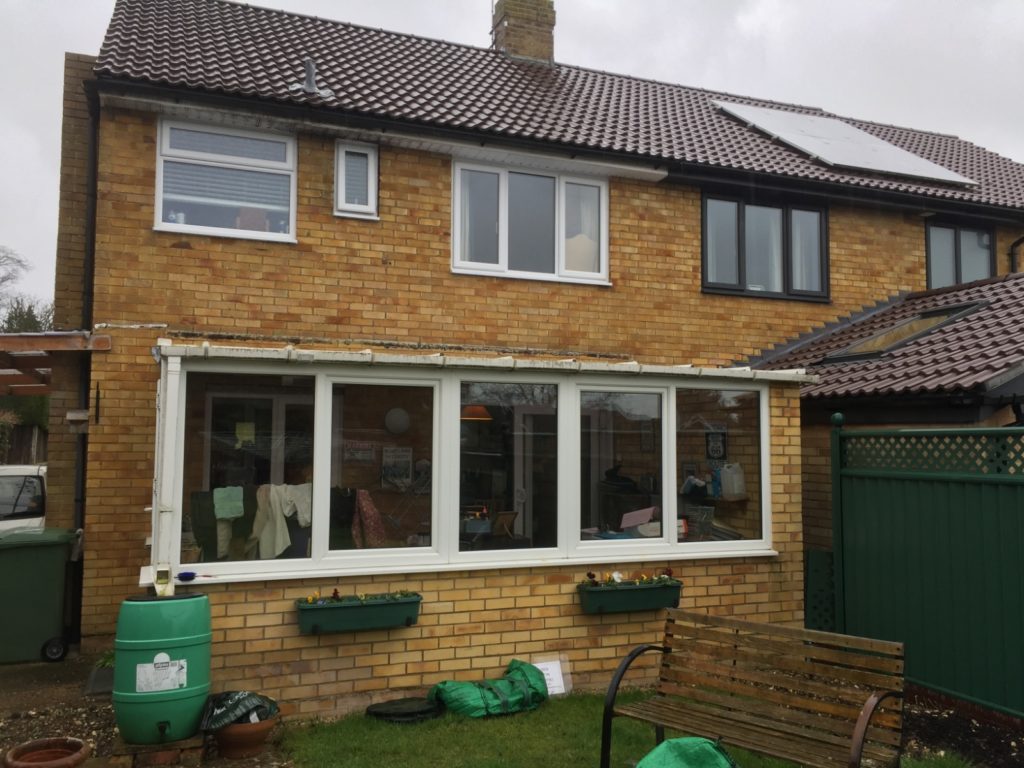 Improving This Conservatory
This Lean-To Conservatory (pictured here before the installation) was in need of a bit of TLC, which is exactly what our installation team provided.
The extension looks good-as-new with a new glass conservatory roof and replacement French doors. This glass conservatory roof is a tried and tested design and was the first roofing system to be approved by the BBA.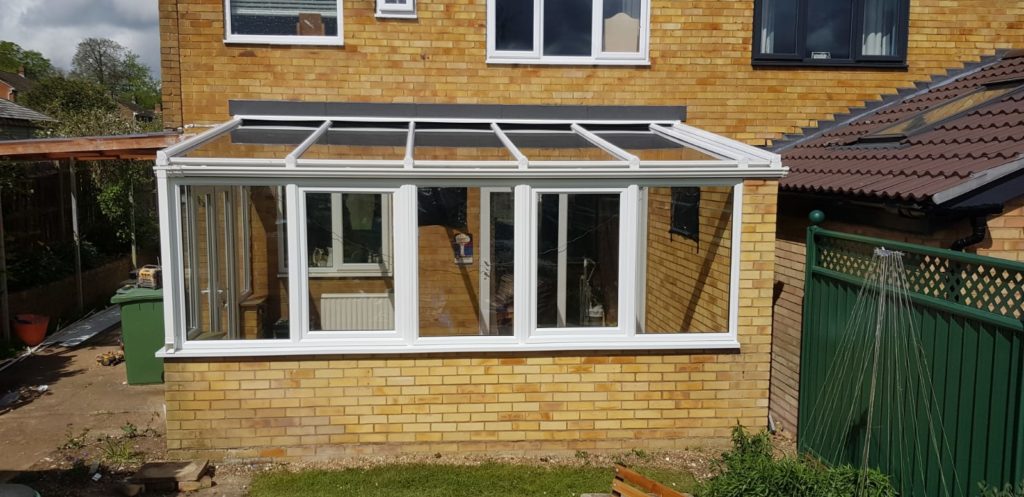 This Hampshire homeowner has not only improved the value of their home following the installation but lightened up their space.
We installed these products with relative ease. Our glass conservatory roof is fitted with features that allow for a fast fit first time, with no need for cutting or drilling on the site. This meant that the homeowner could enjoy a prompt and professional installation.
Versatile Conservatory Roof Fit
We used advanced software to ensure that we provide a perfectly fitting conservatory roof. The software can accommodate structural requirements and large complex designs and includes variable ridges for pitches from 2.5 to 40.9° degrees.
The slim frame in the roof allows for a generous glazing area, with the solar glass keeping this Hampshire home cool in the summer and warm in the winter.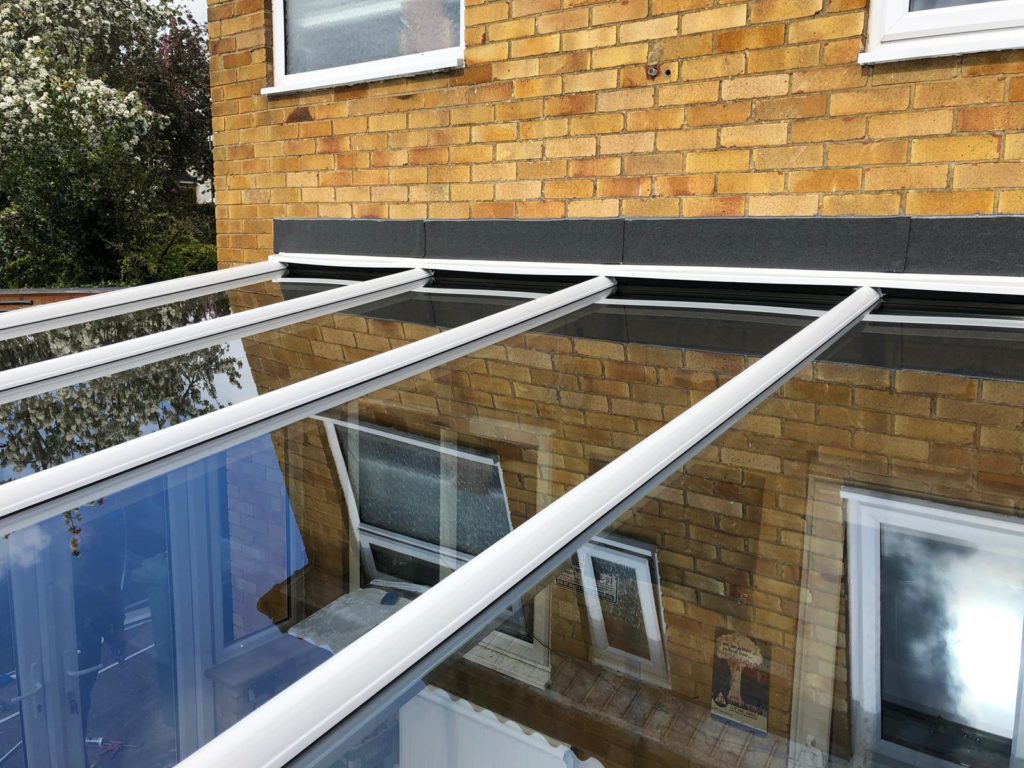 Thermally Efficient Roof
The glass conservatory roof has been manufactured to offer this home an impressive degree of heat retention.
This is made possible by chambered top caps which offer increase structural strength and prevent unnecessary heat loss.
This homeowner will enjoy a comfortable temperature in their home year-round, reducing their reliance on their central heating and lowering their energy bills.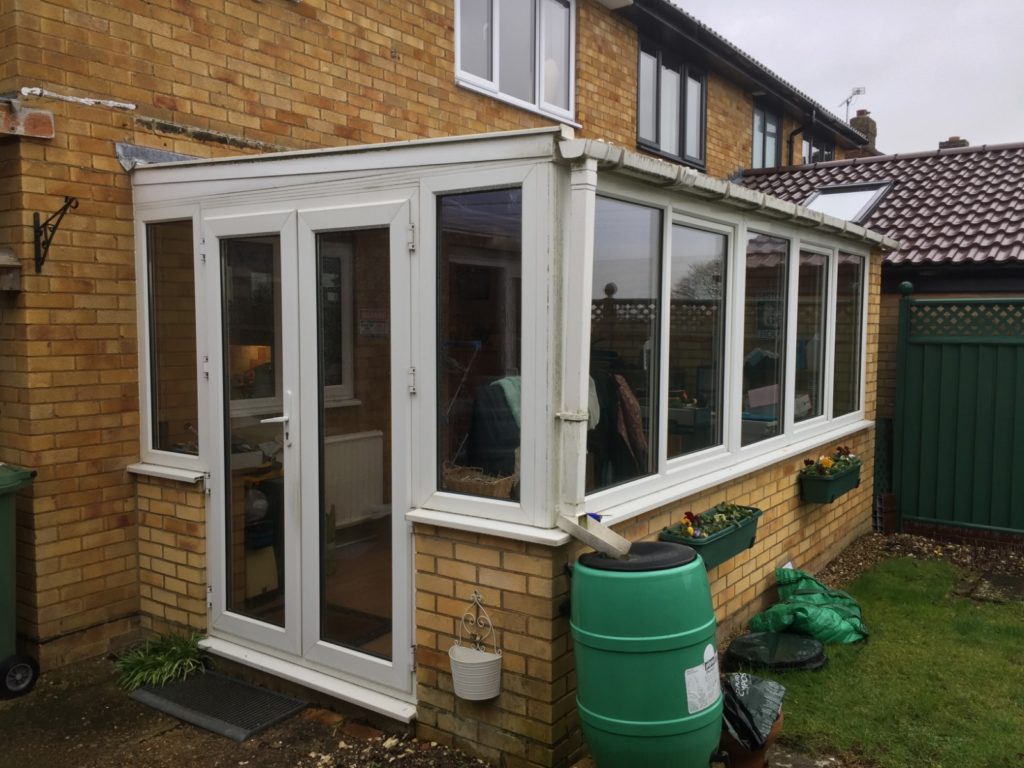 Adding a Touch of France
Although this Hampshire home previously had a set of French doors (as seen in the picture on the left), the homeowner opted to replace them with our modern uPVC profile.
Our advanced lead-free frames are rigid and energy efficient, perfect for year-round use. Unlike before, this homeowner can enjoy opening both their French doors thanks to a handle on each door.
We offer our French doors in a variety of styles, colours and with different handles.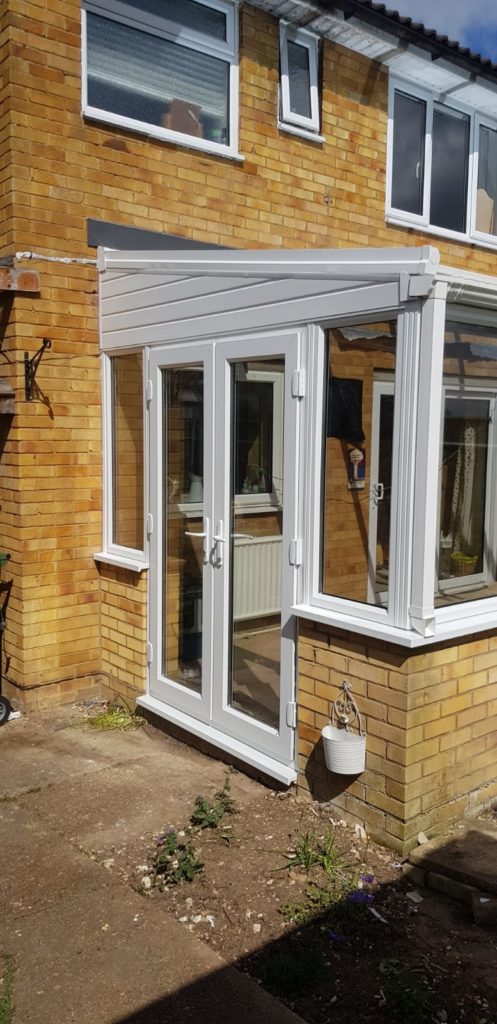 A Secure Door
Conservatories used to be targeted by burglars looking to gain entry to a property. With these French doors, this will no longer be a worry.
The rigid frames and added security shootbolts supplied as standard ensure that this home will not be at risk.
The multi-point locking system within the door and the high-security locks ensure that this home will be protected against modern burglary techniques.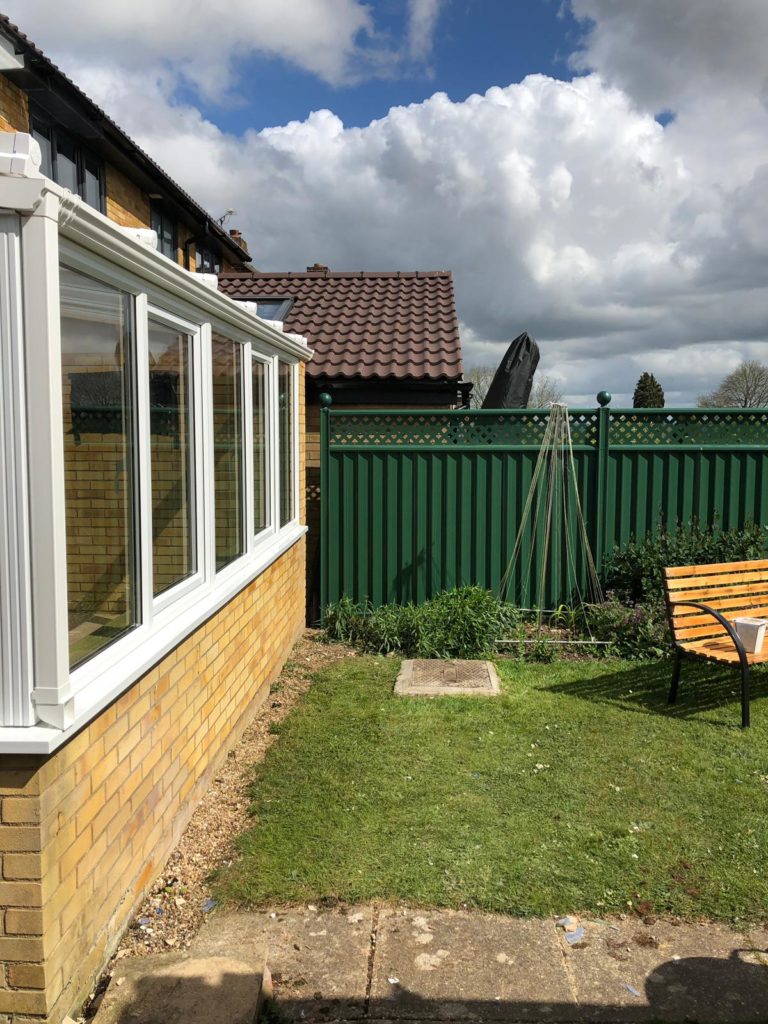 Warming This Hampshire Home
By using a multi-chambered thermally efficient profile in our French doors, this home will benefit from comfortable temperatures year-round.
The profile traps in pockets of warm air, made possible by breaking-up mini convection currents with gaskets that prevent draughts or water ingress.
Due to this space staying at a comfortable temperature year-round, the homeowner will find they rely less on their central heating. This, in turn, will reduce their energy bills and their home's carbon footprint.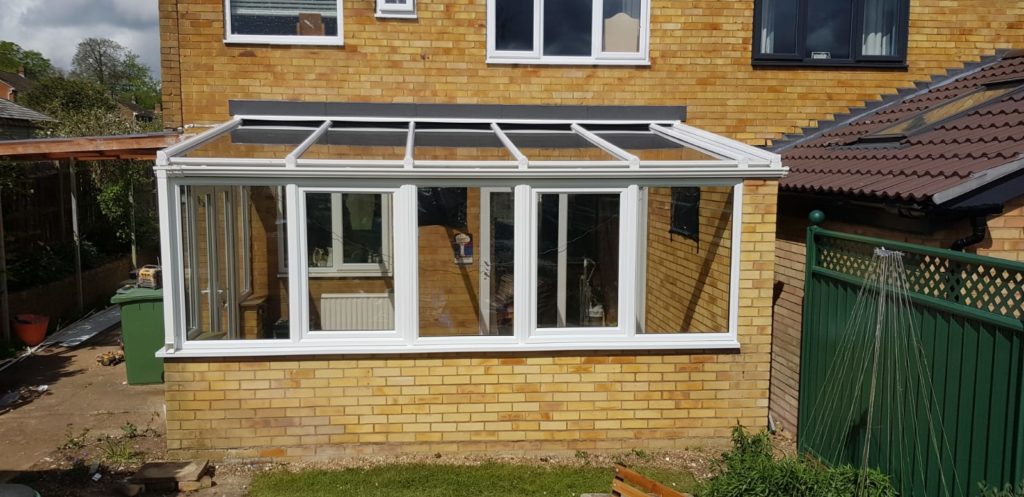 Quality Guaranteed
When this customer purchased a new glass conservatory roof and French door for their home, they wanted to be sure it was a worthwhile investment.
With this in mind, all our products are accompanied by a comprehensive 10-year insurance-backed guarantee.
Not only does this ensure your product will stand the test of time, but you can enjoy the peace of mind that comes with better quality.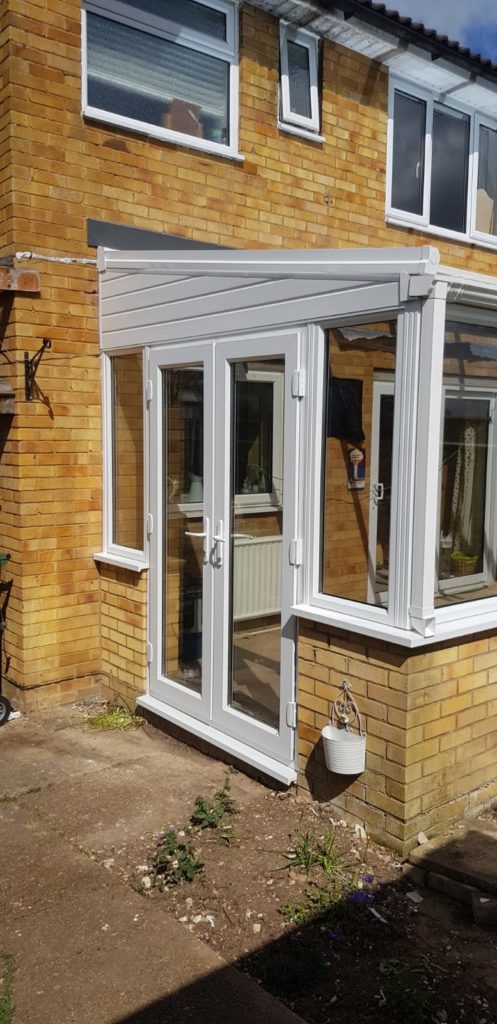 Glass Conservatory Roof & French Door Prices Hampshire
If you've been inspired to upgrade your conservatory or extension with a new glass conservatory roof, or you would like to discuss another double glazing product, then get in contact today. Our team can be contacted on 01962 840 780 or you can fill out our contact form.
For those who already know what style conservatory roof they want, why fill out our online quote or contact a member of our team to receive a bespoke estimate.
We also have a showroom if you would prefer to see our products face-to-face, which is located on Easton Lane, Winchester, Hampshire.
Tags: Double Glazing, French Door, Glass Conservatory Roof, Hampshire, uPVC