What is a Lean-To Conservatory?
Commonly known as a garden sunroom, the lean-to conservatory has been a part of the English garden for over a century.
Their large footprint, wide expanses of glazing and low-pitched roof create additional space and maximise natural light. They are also suited to all properties; you can find lean-to conservatories on large stately homes and small bungalows.
What are the benefits of a lean-to conservatory?
Lean-to conservatories suit a wide variety of different properties, from modern homes to more traditional properties. The low-pitched roof on a lean-to conservatory makes it easier to install, and it can even fit into more awkward places even where there are space constraints.
Are lean-to conservatories affordable?
The relatively simple design and build of the lean-to conservatory make it one of the most affordable and cost-effective designs. A lean-to doesn't need to have brickwork walls and can be constructed much more quickly are made of uPVC or Aluminium and glass. Lean-to conservatories create lots of space and can have a large footprint. Our most recent installations have been used as dining rooms, playrooms, sunrooms, home offices, gyms, and one customer has used his lean-to as a shrine to his motorbikes!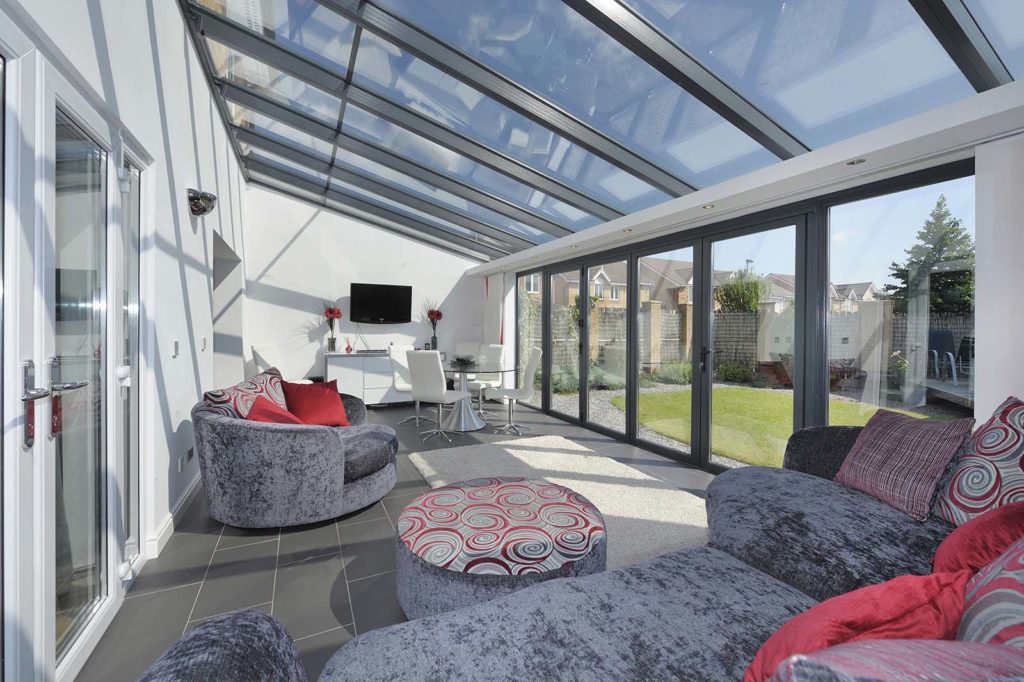 Lean-to conservatories let the light flood in.
Lean-to conservatories are also known as sunrooms as they let lots of natural light in and are perfect for enjoying the summer months. Modern glass solutions make them habitable all year round as the glass helps keep the cold out and the temperature comfortable.
Conservatories add value to your property.
Adding extra space to your home will likely increase its desirability when you decide to sell. A conservatory is less complicated to build than an extension, as in most cases, it doesn't require planning permission. It is estimated that a conservatory can increase the value of your home by at least 5%, although this is dependent on the size and materials used to build it.
County are conservatory specialists with over 30 years of experience in designing, project managing and installing conservatories. Find out more about our lean-to conservatories today.